Magnitude 6.4 quake strikes at shallow depth, bringing down buildings in Tirana and nearby
At least 21 people have died and 600 people have been injured after a powerful earthquake hit Albania in the early hours of Tuesday, causing damage along the countrys Adriatic coastline and in the capital, Tirana. Several buildings collapsed, burying residents in the rubble.
The 6.4-magnitude quake struck shortly before 4am local time (0300 GMT), the US Geological Survey said, and was the second powerful tremor to hit the region in two months. It was centred 19 miles west of Tirana, at a shallow depth of 12.4 miles. Scores of aftershocks included three with preliminary magnitudes of between 5.1 and 5.4.
Endri Fuga, the Albanian governments director of communications, wrote on Twitter shortly before midday local time that 28 people have been pulled alive from the rubble and 600 people have been given medical assistance. Emergency teams arriving from Kosovo, Italy, Greece and other neighbours. Rescuers being helped by volunteers in an unprecedented show of solidarity, he wrote.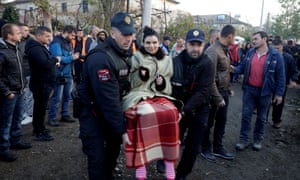 Source: http://www.theguardian.com/us