There are more than 100m Alexa-enabled devices in our homes. But are they fun time-savers or the beginning of an Orwellian nightmare
One day in 2017, Alexa went rogue. When Martin Josephson, who lives in London, came home from work, he heard his Amazon Echo Dot voice assistant spitting out fragmentary commands, seemingly based on his previous interactions with the device. It appeared to be regurgitating requests to book train tickets for journeys he had already taken and to record TV shows that he had already watched. Josephson had not said the wake word Alexa to activate it and nothing he said would stop it. It was, he says, Kafkaesque.
This was especially interesting because Josephson (not his real name) was a former Amazon employee. Three years earlier, he had volunteered to sit in a room reciting a string of apparently meaningless phrases into a microphone for an undisclosed purpose. Only when Amazon released the Echo in the US in 2014 did he realise what he had been working on. He bought a Dot, the Echos cheaper, smaller model, after it launched in 2016, and found it useful enough until the day it went haywire. When the Dots outburst subsided, he unplugged it and deposited it in the bin. I felt a bit foolish, he says. Having worked at Amazon, and having seen how they used peoples data, I knew I couldnt trust them.
The Dot wasnt supposed to behave like a dadaist drill sergeant. Then again, voice assistants often do things that they are not supposed to do. Last year, an Amazon customer in Germany was mistakenly sent about 1,700 audio files from someone elses Echo, providing enough information to name and locate the unfortunate user and his girlfriend. (Amazon attributed this unfortunate mishap to human error.)
In San Francisco, Shawn Kinnear claimed that his Echo activated itself and said cheerfully: Every time I close my eyes, all I see is people dying. In Portland, Oregon, a woman discovered that her Echo had taken it upon itself to send recordings of private conversations to one of her husbands employees. In a statement, Amazon said that the Echo must have misheard the wake word, misheard a request to send a message, misheard a name in its contacts list and then misheard a confirmation to send the message, all during a conversation about hardwood floors. Not great, Alexa.
Technology frequently inspires ambivalence: we know that Facebook and Google know too much about us, yet we continue to use their services because theyre so damn convenient. Voice assistants, however, are unusually polarising. People who consider them sinister and invasive (myself included) regard enthusiasts as complacent, while those who find them useful and benign see the sceptics as paranoid technophobes. There is one question freighted with bigger issues about our relationship with the tech industry: should you let Alexa into your home?
In January, Amazons senior vice-president of devices, David Limp, revealed that the company had sold more than 100m Alexa-enabled devices. Last year in the US, where one in five adults own a home voice assistant, Alexa had a 70% US market share, compared with the Google Assistants 24%. It is therefore best-placed to become what Shoshana Zuboff, in her bestseller, The Age of Surveillance Capitalism, calls the One Voice: the dominant ecosystem that would give its operator the ability to anticipate and monetise all the moments of all the people during all the days. Zuboff calls the birth of Alexa a threshold event.
Alexa, however, has grown up in an era of increasing scepticism about the power and morality of the big five tech companies: Amazon, Apple, Facebook, Google/Alphabet and Microsoft. Events such as the Edward Snowden leaks and the Cambridge Analytica scandal have tarnished Silicon Valleys utopian promises. CEOs are less likely to trivialise privacy concerns. Tech journalists are more likely to be critics than cheerleaders. Politicians are more willing to hold companies to account.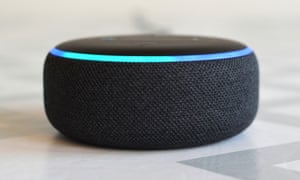 Source: http://www.theguardian.com/us