New 6in Kindle Kids Edition comes with 1,000 books, word-building tools and parental controls
Amazon has launched a new version of its popular Kindle e-reader aimed at children, which comes bundled with more than 1,000 age-appropriate books.
The new 99 Kindle Kids Edition is a special variant of Amazons latest, cheapest frontlit 6in Kindle with software designed to encourage reading through gamification and word building.
Children can complete goals based around words, pages and books, winning badges as they go. A modified version of Amazons X-ray tools allows children to look up words, which are added to word lists as vocabulary builders including flash cards and Amazons existing word wise aids.
Word and phrase translation into and from other languages is available, but access to Wikipedia, as usually found on Amazons Kindle, is restricted. Amazons search has also been modified to help children find books without having to know the exact spelling of titles or authors.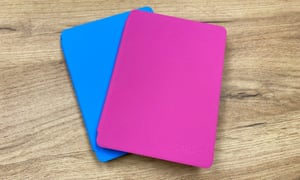 Source: http://www.theguardian.com/us