In the Kurdish heartlands in Syria, the sense of abandonment at the withdrawal of US troops is palpable as Erdoans forces claim early successes
The lone road out of Ras al-Ayn was empty, except for one overladen lorry that slowly made its way along a lethal mile from war zone to exile. Shells thudded into buildings in the distance as Kurdish forces in vans prepared to race jets and sniper fire, trying to get to a battle that almost everyone else had left.
Those who remained in the border town at the frontline of the war for north-eastern Syria were there to fight; the Kurds rallying to defend it and the Arabs preparing to seize it from them. Early on Saturday, the Arab force, trained by Turkey, made its move. By the days end, the proxies claimed to have recaptured part of Ras al-Ayn, making good on Ankaras threats to push Kurdish forces from one of their main enclaves.
At the same time, US troops, who once trained the same Arabs before more recently fighting alongside the Kurds against Islamic State (Isis), were preparing to exit Syria for good, their five-year war against the terror group at an end. So, too, was their relationship with their hosts.
The bewildering events of last week may have seemed like chess moves to some: considered manoeuvres made in awareness of the consequences. To others, including European leaders now scrambling to pick up the pieces and Kurds now looking for a rescuer, Donald Trumps decision to abandon an ally on the eve of their being invaded was an impulsive act likely to change the course of the region.
In the heartland of Syrias Kurds, old alliances are fast being trampled by new realities that bear no resemblance to the last five years of war. From this point, the Kurds who have shouldered the fight against the global menace of Isis will need to fend for themselves; the US, which historically took a lead stake in how things unfolded in the Middle East, has effectively left the stage, and Turkey long rattled by the ascendancy of Syrias Kurds aims to re-engineer the borders demographics.
What all this may end up unleashing is preoccupying London, Paris and other western capitals which, like the Kurds, are grappling to come to terms with a vastly diminished US role and the vacuum it creates. What it may mean for ethnic coexistence in the region is now also being questioned: Arabs fighting Kurds for land adds another dimension to the chaos of the Syrian war, as does a demographic realignment.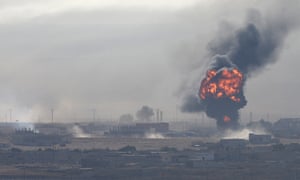 Source: http://www.theguardian.com/us