Seven dead as protesters loot supermarkets day after Piera suspends price rises that sparked unrest
Protests and violence continued in Chile overnight despite the president cancelling a rise in subway fares that has prompted violent demonstrations.
Officials in the Santiago region said three people had died in fires at two looted supermarkets early on Sunday. Sixty Walmart-owned outlets were vandalised, and the company said many stores did not open during the day. Five more people later were found dead in the basement of a burned warehouse and were not employees, authorities said.
At least two airlines cancelled or rescheduled flights into the capital, affecting more than 1,400 passengers Sunday and Monday.
We are at war with a powerful, relentless enemy that respects nothing or anyone and is willing to use violence and crime without any limits, President Sebastin Piera said on Sunday in an unscheduled speech from the military headquarters.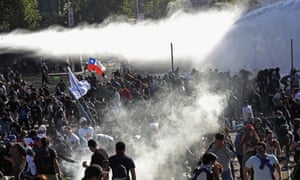 Source: http://www.theguardian.com/us