Wife of Wayne Rooney claims fellow footballers wife passed on her private Instagram posts
Coleen Rooney has claimed to have caught another footballers wife passing her private information to the Sun, after apparently running an elaborate sting operation that involved placing false stories in the tabloid newspaper.
Rooney, an online influencer who is married to the former England international Wayne Rooney, said she was forced to act after a series of posts on her private social media account appeared in the media. She has publicly accused Rebekah Vardy, the wife of fellow England footballer Jamie Vardy, of being the individual who was leaking the private information.
Vardy, a former contestant on Im a Celebrity Get Me Out of Here!, has denied any involvement and suggested someone else may have had access to the password for her Instagram account. On Wednesday evening a tweet from the broadcaster Victoria Derbyshire said that Vardy, who will appear on her BBC2 show on Thursday, had instructed lawyers to carry out a forensic investigation on her Instagram account to see who has had access to it and when. The Sun has not disputed Rooneys suggestion that Vardy was the source but amended all the disputed stories on its website to note that they could have been fabricated.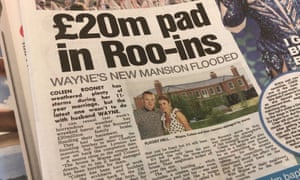 Source: http://www.theguardian.com/us