Our new film series tells the surprising and troubling stories of five cities that reflect major global divisions
Thirty years ago, a rapt world watched the unfolding of one of the great city stories of all time. Every hammer blow chipping away the imposing grey blocks of the Berlin Wall, which had come to embody global geopolitical divisions, seemed to herald a more united future.
Since then, however, our world has fractured anew and our cities feel more divided than ever. When the Berlin Wall fell, there were two border walls in Europe; now there are 15. Nor is this fracture merely physical: many cities are havens of wealth and privilege for those who hold the access codes, hives of struggle and poverty for those who do not. Wherever I travel to report I have always been struck by how different people can have such contrasting experiences of the same city and its no different at home, in my neighbourhood of Camberwell, south London, where upscale coffee shops and gang violence occupy the same stretches of road.
When we started Guardian Cities in 2014, many of the stories we reported, on topics such as gentrification and car use, were ultimately about division and inequality and that was before the votes for Donald Trump and for Brexit upended the US and UK, the war in Syria sparked an unprecedented migration crisis, and climate change finally seized the imagination of those who realised that it was likely to be the poor who suffered most.
Divided Cities is the result of that reckoning a new global documentary series of five stories, from five cities around the world, that reflect these major faultlines in surprising and troubling ways.
Over the last 12 months our team Guardian executive producer Jess Gormley, producer Anetta Jones, film-maker Max Duncan and myself worked with our contacts around the world to identify what we believe to be some of the more vital and startling ways cities are divided today. All we knew at first was that we wanted to move beyond Trump and Brexit both of which have sucked up so much oxygen that many equally important stories are going unreported and to rethink division from a fresh perspective.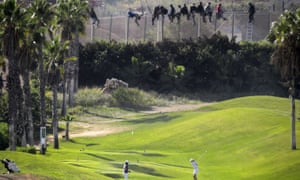 Source: http://www.theguardian.com/us