In the latest instalment of our series on the counties in which voters swung from Obama to Trump, Chris McGreal reports from Howard county, Iowa, where Trump voters have plenty to dislike but would will vote for him again
Donald Trump hasnt made life easier for Aaron Schatz. He may even have made the Iowa dairy and grain farmer a little poorer. But Schatz can live with that, for now.
This trade war with China, its dropped prices of our corn and beans but its something that needed to be done because China was unfair to us. I know were going to take a hit. Some of us are getting a little frustrated but were happy somethings being done, he said.
Schatz, a 36-year-old fifth-generation farmer, twice voted for Barack Obama and then hesitantly backed Trump in 2016 in Howard county, a rural Iowa county that saw one of the biggest shifts in support in the country from the outgoing Democrat to the Republican insurgent.
I was never a huge fan of Trump but I voted for Obama both times and I was not very happy with him when he was done. I felt he didnt stand up to nothing, he said.
Schatz said he will probably vote for Trump again in the crucial swing state.
This trade war is the biggest thing. I worry that China is just going to wait it out for a Democrat to get in and a Democrat is going to say well just go back to the way it was or maybe even worse than it was, he said.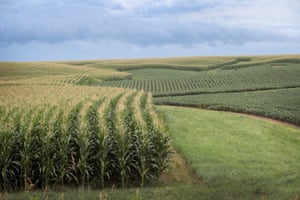 Source: http://www.theguardian.com/us