The actor Adewale Akinnuoye-Agbaje talks about growing up in Essex and joining a racist gang a story now told in his directing debut, Farming
There are some stories that, though they wait half a lifetime, must get told. Seven years ago, Adewale Akinnuoye-Agbaje gave an interview to this paper in which he talked about his autobiographical film, Farming, which was then about to go into production after a dramatised reading of the script had headlined a Sundance festival promotion in London. At the time the actor was enjoying a measure of Hollywood fame for his role in the cult TV series Lost. Farming, which he had then already been writing and developing for nearly a decade, explored a real-life mystery: it was the incredible story of how he, a young Nigerian boy raised by white foster parents in 1970s Tilbury, Essex, had forged an identity for himself in a violently racist local skinhead gang, and lived to tell the tale.
The film, which eventually premiered at the Toronto festival last year, goes on wider release this month. It both dramatises a brutal and moving coming-of-age and shines a light on a little-known chapter in the story of race relations in Britain: the practice that led to thousands of Nigerian children like Akinnuoye-Agbaje being farmed out to British families in that period. When I met its creator last week in London, I suggested that having the film out in the world must produce many emotions in him, but I imagined that, given its long gestation, one of the primary ones is relief.
Akinnuoye-Agbaje, back in London from his long-term home in Los Angeles, is a big-shouldered, charismatic presence, with an easy eloquence on many subjects, including his past. He agrees that the film is an exhalation, and a huge one. He says: The fact is, I literally first started writing the screenplay all those years ago because I could not sleep at night.
In directing the film he has had to go through all the nightmarish boyhood trauma and violence it details for a second time. He says: A production designer rebuilt the house which for many years was the breeding ground for my own self-hatred. At the helm of a film you dont have the luxury of too much emotion, but afterwards, watching it, certainly.
The film has provoked an outpouring not only from his immediate family but from hundreds of other Nigerian British children who experienced something similar. Akinnuoye-Agbajes parents were among a generation of Nigerians to come to the colonial mother country to get a university education they could take home and use to build democracy in their newly independent nation, then beset by civil war.
His father came to study law, his mother accountancy. When he was a few months old, they placed a discreet advert in a local paper to find a family that could care for him while they studied and worked to pay for their degrees. The film begins with them handing over their child and the first monthly payment for his care to the family that responded to that advert in a dockside row of terrace houses in the outer reaches of east London. The scene raises many questions, most insistent of which is: what could they have been thinking?
The film-maker has obviously given that question a great deal of thought. He says: My understanding is that it derived from an age-old habit: in Nigeria and elsewhere in Africa it was common for parents to send their children from the village to a town, to an extended family member or even a stranger, because it was thought that child would have more opportunities.
The problems began with people like my parents because it was a foreign country. I think it was seen as a status thing and there was an element of white being seen as right. Mostly they wanted us to get an education and learn to speak good English.
Because of the informal, under-the-radar nature of the practice, there are no figures for how many children were farmed, but Akinnuoye-Agbaje believes that well over half of all Nigerian British children would have experienced at least a few years away from their birth families in this way (he mentions the Olympic medallist Kriss Akabusi as somebody who has also spoken about it). The practice only really came to an end, he suggests, after stricter checks were put in place following the abuse and murder of Victoria Climbi in 2000. In the intervening years, however, few of the foster arrangements could have been as extreme as the environment in which the film-maker found himself.
He was one of at least 10 Nigerian children taken in by his foster parents and mostly raised by his new mother, Ingrid (played in the film with abrasive spirit by Kate Beckinsale) while her husband was away working as a lorry driver. All those children fell to earth in Tilbury, a fertile recruiting ground for nascent far-right groups in the years after Enoch Powell made his rivers of blood speech. Akinnuoye-Agbaje and his new siblings the family also eventually took in his two younger sisters were initially the only black faces in their area.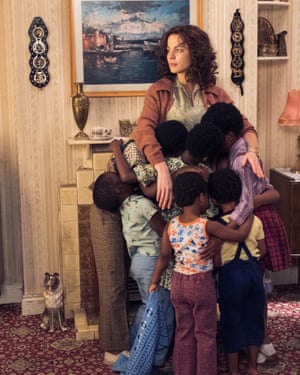 Source: http://www.theguardian.com/us