This is the reality that currently exists in Israel, says the creator of Autonomies
War rages in the heart of the Middle East. Jerusalem is captured. Concrete walls go up, and a deep distrust spreads across the holy land.
The well-worn tale is used as the backdrop to multiple Israeli television dramas. Yet for one show, it is not Arabs and Jews who are doing the fighting, but Jews and Jews.
Currently touring film festivals across the world, the six-part series Autonomies envisions a clash between secular Jews and the deeply religious ultra-Orthodox, or Haredi, Jews.
In this vision, set in the near future, civil war has cut the land into two countries. The coastal State of Israel is nonreligious, with the cosmopolitan city of Tel Aviv as its capital. Jerusalem is a walled, autonomous city-state, run by Haredi rabbis.
At first glance dystopian, the show is in fact an artistic extrapolation of real-life rifts in Israeli society. Many Israelis increasingly see secular-Haredi disaccord about the future of the state as a greater concern than the Palestinian issue, and fear it could tear the country apart from the inside.
Earlier this year, disagreements between secular and religious politicians shattered attempts to form a coalition government and dragged the country into a second round of elections. On 17 September, Israelis will go back to the polls following a campaign in which political parties have sought to exploit internal animosity.
Yehonatan Indursky, an Israeli filmmaker who wrote Autonomies with the writer Ori Elon, says the show takes divisions in Israel to extremes, and tries to show what can happen if we do not wake up and try to find the way to live together and respect one anothers way of life.
The dramas protagonist, Broide (played by Assi Cohen), is a Haredi man who moves contraband, smuggling pornography and books banned by the religious authorities into Jerusalem. He is one of a few who crosses between the two sides and is soon caught up in a controversy that could reignite the war.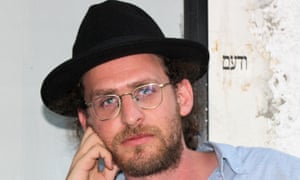 Source: http://www.theguardian.com/us