The rising playwright talks self-censorship, fascism, and the unique struggles of being a black artist
This fall, Jeremy O Harris wrestled with a problem unique to artists of color. He knew his Broadway debut, Slave Play, worked with white audiences but he wasnt confident that it worked with black ones. His anxiety only grew after the premiere, especially when he heard black people suggest that he wrote Slave Play solely for white consumption.
I would say, in this moment, where so many black artists are getting opportunities for the first time, it can feel like you have to make black art for all black people, said Harris.
His anxieties capture the struggles of being a black artist who wants to highlight something new about race in America: you upset both sides.
Slave Play explores micro-level manifestations of racial trauma among three interracial couples who engage in slave-era sexual fantasies to resolve their relationship issues. The result is a work that attempts to highlight how we all embody complicated, imperfect ideas about ourselves, others, and the people we love.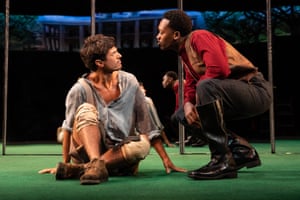 Source: http://www.theguardian.com/us