Threat comes after controversial project in border state that forced 33 million residents to prove their heritage
Indias home affairs minister has said his government will not allow a single illegal immigrant to stay amid outcry over a citizenship register in Assam that could leave almost 2 million people stateless.
The comment were made by Amit Shah during a visit to the border state. The home affairs ministry, paraphrasing Shahs speech, said he was satisfied with the timely completion of the process.
Over the past four years, about 33 million people in Assam have been forced to prove they are citizens by demonstrating they have roots in the state dating to before March 1971. Shah, prime minister Narendra Modis right-hand man, has previously said India must act against infiltrators who were eating the country like termites.
Lawyers have raised serious concerns over the process, which they say has wrongly excluded people on the basis of minor clerical errors in decades-old documents. There are fears that Muslims, women and the poorest communities could be the worst affected.
Senior figures in the Hindu-nationalist Bharatiya Janata party (BJP) had so far shied away from commenting on the list, published on 30 August.
Modis government had backed the National Register of Citizens (NRC), saying it was aimed at weeding out foreign infiltrators.
During his visit, Shah was expected to be urged by the local BJP leadership to pass legislation to protect the rights of people it says are genuine citizens excluded from the list.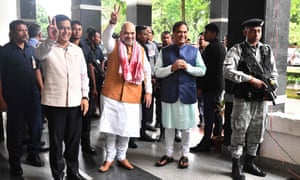 Source: http://www.theguardian.com/us