Two goals from Pp gave Arsenal a 3-2 Europa League victory after they had trailed 2-1 at home to Vitria Guimares
For a long time it seemed Thursday nights, which have become Arsenals haven from the tide of neurosis that engulfs their domestic affairs, would be struck off the list of safe spaces. This was a confused, deeply uninspired performance that will largely be forgotten because Nicolas Pp, the clubs 72m record signing who had been under mounting pressure to deliver, came off the bench to score two marvellous free-kicks in the last 10 minutes and create a silver lining where the clouds had been jet black.
Pp had been criticised for missing a clear chance in Mondays defeat at Sheffield United and Unai Emery had made little secret of the fact his adaptation since arriving from Lille has been faltering. But his reputation for set-piece prowess precedes him and when he lined up his first, 25 yards out and at an angle to the right, there was cause to think he was Arsenals best bet of a bailout.
It was duly curled past a questionably positioned Miguel Silva, the Vitria Guimares goalkeeper, and into the far corner. His second, whipped venomously from a more central position in the games last action, was unstoppable and put Arsenal a win away from qualifying for the knockout stage. The turnaround was unexpected for the sloppy fare that had gone before but predictable for Arsenals proven expertise in papering over the most alarming of cracks.
The two goals from Pp were perfect and I think we deserved to win, Emery said. He was half-right. What most people saw was a match in which a modest Vitria, expected to offer the standard level of supine opposition for a spot of escapism from Arsenals considerable league concerns, played smartly and were the better side for long periods. They led twice, through Marcus Edwards and Bruno Duarte, and it was never out of the question that extra ignominy might be inflicted.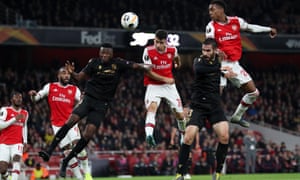 Source: http://www.theguardian.com/us