Guests forced to part with their phones at event featuring Cara Delevigne, Laverne Cox and the Hadid sisters
Raised cameraphones have become a ubiquitous part of cultural events over the last decade, but for her Savage x Fenty lingerie show, one of the most hyped of this fashion season, Rihanna made sure that couldnt be the case.
Guests arriving at the Barclays Arena in Brooklyn on Tuesday night were required to deposit devices into sealed pouches at the door in large part to make sure the show remains under wraps until 20 September, when it will be exclusively streamed by Amazon Prime across 200 countries and territories, giving it a reach well beyond that of a traditional catwalk.
The show opened with Rihanna and a small group of women standing stock-still on top of podiums before breaking into dance. There were performances by Halsey, A$AP Ferg and DJ Khaled, as well as appearances from models including Alek Wek, Cara Delevingne, Joan Smalls, Laverne Cox and the Hadid sisters.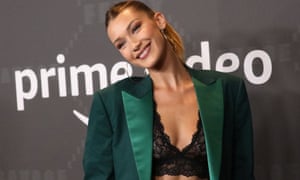 Source: http://www.theguardian.com/us