In three handwritten notes, the late photographer writes about her budding romance with the Beatle
Her marriage to Paul McCartney was one of pops great love stories for almost 30 years. Now, previously unpublished letters written by Linda Eastman in the 1960s reveal her excitement about dating the Beatles star and being commissioned to photograph groovy bands of the day.
In June 1967, weeks after she had begun dating McCartney, Linda photocopied an American gossip column that had a sentence about her. She sent it to a friend with the passage underlined. It reads: They say Beatle Paul McCartneys latest favourite femme is Linda Eastman, a Yankee Doodle fan-mag [photographer].
Writing on the back, she told her friend: Thought youd get a big laugh over the enclosed clipping. Have no idea where they picked up that lie, but it just shows how truthful newspapers are.
The friend was Miki Antony, who realised that gossip columnist Walter Winchell had got his facts absolutely right. My reaction was a chuckle as I did know it was true, Antony told the Observer. She stayed with me when she first came to London [She said] Guess who I dated last night? It was Paul McCartney, and we had this lovely evening. She said Paul really liked white rabbits, and the next day she bought a white rabbit and sent it to him. That night, she told me, he rang her up and said, Thank you so much for the white rabbit, would you like to come out for dinner again? Thats how I knew theyd started dating. The rest is history.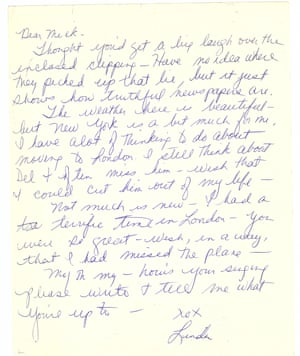 Source: http://www.theguardian.com/us