The Trump administration is still separating children from their family members at the border. Inside a hidden crisis
The six-year-old girl on the other end of the line tells Alexa she fears they will never be together again. In another 15-minute phone call, she questions if Alexa still loves her. She asks Alexa to pick her up from the family shes staying with in New York. Alexa hears the girl say the words in Spanish: You are my mom, I want to be with you.
Alexa wishes she could go get her. But Alexas locked up 2,400 miles away, at an immigration detention center in Arizona.
Alexa, 23, and her six-year-old niece arrived at the US border from Guatemala in early 2019, after gang members murdered much of their family and Alexa was left as the sole caretaker of the little girl. Its been more than seven months since US officials on the Arizona border separated them. Its the longest they have ever been apart. Now they are in the hands of a system that wont make it easy for them to reunite.
The public outcry over forced family separations at the border last year has faded from the headlines, yet migrant families continue to be separated today. A federal judge in San Diego ordered the Trump administration in the summer of 2018 to reunite families and stop separating most parents and children. But the court order does not apply to non-parents, and the administration keeps separating people like Alexa aunts, grandparents or older siblings who commonly step in as guardians without formal paperwork from the children theyre traveling with, without any procedure to reunite them. (The government also continues splitting up some children from their parents, citing reasons such as the parents criminal history.)
Figures obtained on Thursday by the American Civil Liberties Union (ACLU) through litigation reveal the federal government separated at least 1,556 more children from their parents than it had previously disclosed, bringing the number of known cases to more than 5,460. The family separation practice was worse than we thought in the past and is still ongoing, says Lee Gelernt, the deputy director of the ACLUs Immigrant Rights Project. The overall tally would be larger still if it included families like Alexa and her niece, but no one has tracked the number of children separated from non-parent adult relatives.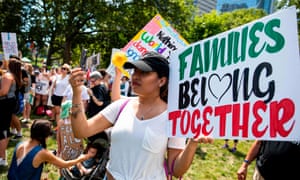 Source: http://www.theguardian.com/us