On Karachis streets, a team is leading the way where police have failed in investigating disappearances
Zigzagging through Karachis main road, Layla Gulnaz*, 46, is on a mission. Beneath a sweltering sun, she goes from one car to the next, peering intently at the backseat passengers as she asks for spare change. She approaches a black car with a family of five inside.
As the father reaches for change, Gulnaz quickly scans the faces of the three children in the back. To buy time, she makes small talk, but the man passes her a few rupees and hastily rolls up the car window.
They think were freaks, she says, rolling her eyes. That we steal children because we cant have our own. But here we are, doing the exact opposite. Gulnaz pulls out a crumpled photo from her purse and sighs; the missing child she has spent all afternoon searching for 13-year-old Asma Razzak is nowhere to be found.
Gulnaz is one of Pakistans estimated 500,000 transgender people, who are largely shunned and driven to the dangerous margins of Karachi life. Many end up working in vulnerable industries such as the sex trade.
Gulnaz is also on the frontline of Pakistans battle to overcome an epidemic of child disappearances linked to slavery, exploitation and murder.
According to NGO Sahil, in a survey of 85 national and regional newspapers, 1,064 child abduction cases were reported, of which 79% were girls and 21% boys. This is part of a wider story of children going missing across Pakistan; exploited, abused, sold into forced marriage or slavery. In its latest report, Sahil found the main reasons for abduction were trafficking, begging, sex work and bonded labour in brick kilns.
For years this issue has been largely ignored, but in recent weeks the desperate tale of Pakistans missing children has become a national scandal. The discovery of four childrens bodies in shallow graves and on rubbish dumps in the Kasur district of Punjab, south of Lahore, in September sparked demonstrations over police inaction. Cars were burned and the local police station was pelted with stones. The prime minister, Imran Khan, stepped in, promising that the police would be held to account, and unveiling an app to track children from the moment they vanish.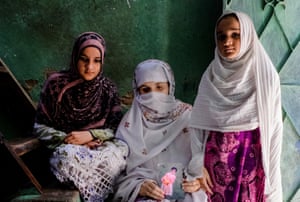 Source: http://www.theguardian.com/us