The gilets jaunes erupted exactly a year ago. To understand them, we need to see the movement in the context of 2015s tumultuous events
The year 2015 was without doubt one of the worst in living memory in France. It began on 7 January with the massacre at the offices of the satirical magazine Charlie Hebdo. Two days later, four people were killed in an Islamist attack on a Jewish supermarket in Montrouge, just south of Paris. The year ended with mass slaughter on 13 November when Islamist gunmen and suicide bombers attacked the Bataclan concert hall, killing 130 people and injuring many more. By the end of 2015, France appeared to have slipped into a deep trauma that is not yet over.
Four years on, quiet commemorations of the 13 November attacks were held once again across Paris, led by the citys mayor, Anne Hidalgo, and the interior minister, Christophe Castaner. But official ceremonies can never tell the real story of how people feel. Certainly, the atmosphere last week in my neighbourhood of Pernety, a mile or so from Montrouge, was muted.
Time passes but you can never forget, said the owner of a deli where I was buying lunch. No one in the shop dared to disagree, including his Arab customers. The newspaper Le Parisien put it best in its description of the attacks and their recent commemorations as an open wound that affects everyone who lives in Paris, whatever their religion or ethnicity.
This weekend also marks another anniversary it is 12 months since the emergence of the gilets jaunes movement and events are being planned all over France to mark the occasion. The events of 2015 and the gilets jaunes phenomenon are not often considered in tandem, but there are multiple reasons why they should be. One of the legacies of 2015 has been a sense of fragile unreality, or precarity, one of the key words of the gilets jaunes movement. This feeling is also reflected in this years French bestseller Le Lambeau by Philippe Lanon, a survivor of the Charlie Hebdo attack who was disfigured and left for dead by his would-be assassins.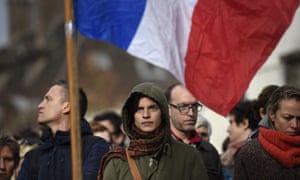 Source: http://www.theguardian.com/us